Square is a popular, low-cost point-of-sale system. But is it the best solution for growing your small business? Check out these 10 top Square alternatives.
is a great entry-level, affordable point-of-sale (POS) system for small businesses such as restaurants and retailers. With free credit card readers and a user-friendly interface, Square lets you collect payments in-store and on the road with minimal fuss and expense.
But is Square the best option for your business? Whether you want to upgrade from Square or evaluate your options before investing in a POS system, here are alternatives to consider.
Here are the top alternatives to Square as POS software:
Stripe Payments
Toast POS
Lightspeed POS
ShopKeep
Revel POS
PayPal Here
Epos Now
Clover POS
QuickBooks POS
What to look for in a great Square alternative
Square gets high marks for easy setup, free hardware, and simple operation. It does have limitations, though. Here's what to look for in a Square alternative.
1. Better pricing
The Square app is free and there are no monthly fees or minimum charges. Instead, Square charges a flat fee of 2.6% + $0.10 per transaction for in-person charges, including swiped (magnetic stripe), dipped (chip), and tapped (mobile) credit card payments.
Square fees for online payments are 2.9% + $0.30, and transactions that are manually keyed in cost 3.5% + $0.15. Square's invoice fee is also 2.9% + $0.30 unless the payment is made with a card on file, which costs 3.5% + $0.15.
Across the board, Square's pricing is on par with other POS providers, but Square credit card processing can be costly for businesses that process a lot of charges under $10, called micropayments.
The system includes a free Square credit card reader that accepts swipe payments. A reader that handles both contactless (tap) and chip (dip) card transactions is available for $49.
If you're considering alternatives to Square, you need to evaluate pricing and how the charges will add up for your sales volume and typical charges.
2. Better support
Square offers basic support with live customer service available only on weekdays from 6 a.m. to 6 p.m. Pacific time. If you're investing in a new POS system, look for one with support covering critical evening and weekend hours.
3. Advanced features
Square offers basic POS features such as inventory management and sales analytics, but many POS systems have much richer tracking and reporting capabilities.
Our top 10 picks for Square alternatives
Here are our top suggestions to consider in place of Square for payment processing.
1. Stripe Payments
Stripe is a family of web-based POS solutions that integrate with existing websites and applications. Stripe Terminal is a versatile POS terminal solution ideal for businesses that want control over the customer's purchasing journey from end to end, but it takes web development savvy to make it all work.
If you have coding expertise in-house, Stripe is a powerhouse payment solution for online and mobile payments. It includes an embedded checkout on your website that can be branded and customized to your precise specifications.
Stripe comes packed with pre-built integrations with just about every backend system you might use, from website builders to customer relations management (CRM) to inventory and sales management.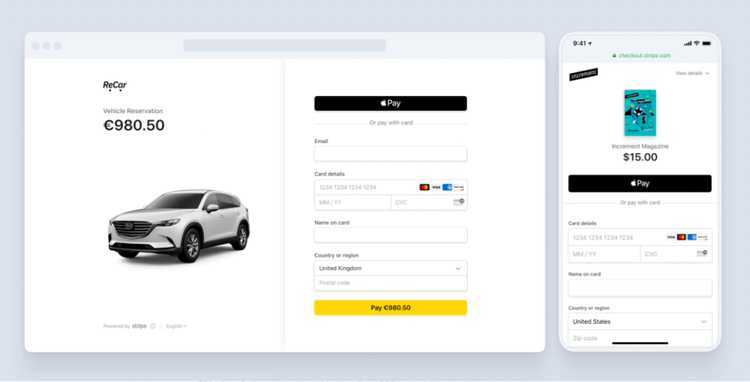 Stripe's fee for online payments is the same as Square's, but its POS fee for in-person card payments is 2.7% + $0.05 per transaction. If you process a lot of small payments, this might be advantageous for you.
If you want more features, better support, and competitive pricing, Stripe is worth a look.
Read The Ascent's full Stripe Payments review
2. Toast POS
Toast POS is designed for restaurants, with thoughtful features for managing digital orders, front-of-house and back-of-house tasks, sales tracking, and customer engagement. For example, Toast's sales reports drill down to sales by item to inform purchasing and pricing strategies. They also break down sales by employee to inform staffing and performance management.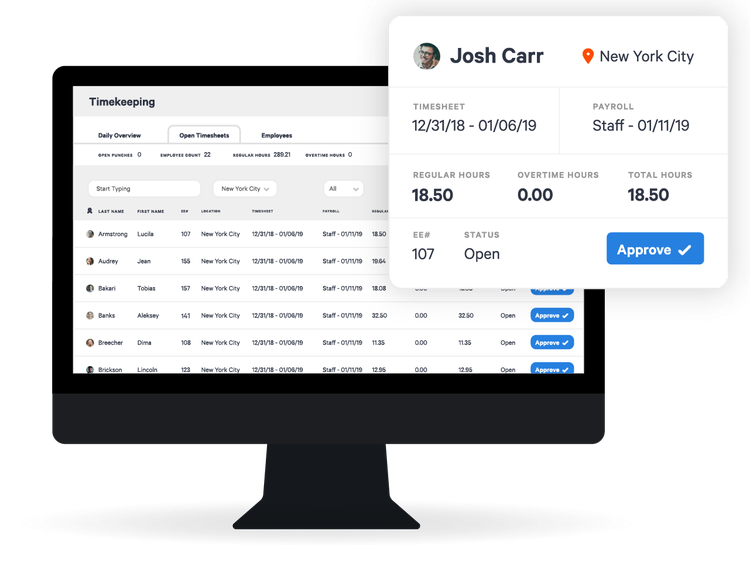 Toast also supports popular marketing elements such as gift cards and loyalty programs. The system integrates with approximately 60 third-party software programs. This is fewer than many competing POS systems, but it includes specialty providers such as Grubhub.
Toast's POS pricing is $75/month for software to support one register. Its payment processing fees are determined individually, but are in the range of 2.5% + $0.15 per transaction. There are additional fees for specific features and hardware.
Toast has many useful features baked in for food services, plus excellent support and user-friendly software. If you're in the restaurant business, Toast should make your short list for POS software.
Read The Ascent's full Toast POS review
3. Lightspeed POS
Lightspeed POS includes two solutions created for retailers and restaurateurs. It's not the lowest cost option, but Lightspeed offers rich features for the money.
Lightspeed POS lets you upload your inventory via spreadsheet or even directly from vendor catalogs. From there, you can sort, tag, and track items and automate restocking to maintain inventory. Lightspeed also includes advanced purchase order management features.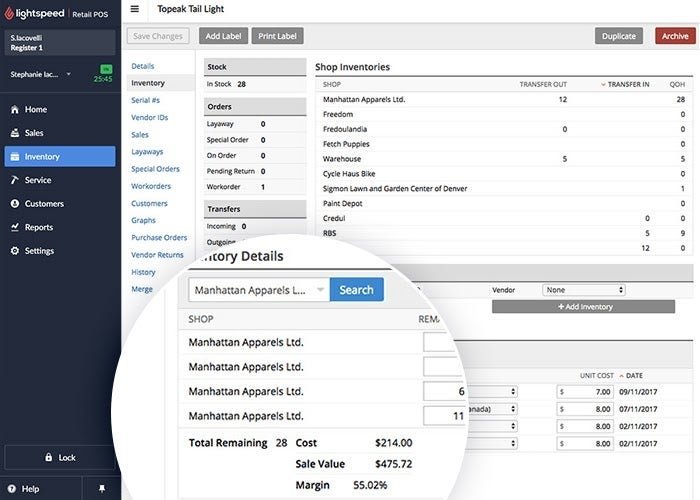 Lightspeed Restaurant offers menu management, ingredient tracking, floor plan management, and reporting and analytics. Lightspeed's customer loyalty feature lets you collect and track customer information to create targeted marketing campaigns.
Lightspeed accepts multiple payment types including credit cards, checks, and gift cards. The software is easy to use and provides outstanding 24/7 customer support.
Lightspeed offers five monthly subscription plans ranging from $69 to $299/month depending on the add-ons you choose. If you own a store or restaurant, check out Lightspeed before settling on a POS. Lightspeed offers a 14-day free trial, so there's nothing to lose.
Read The Ascent's full Lightspeed POS review
4. ShopKeep
Shopkeep, a Square alternative, is another competitive offering for retail and food service businesses. ShopKeep is easy to use straight out of the box, with sales, customer, and inventory management handled through a single dashboard.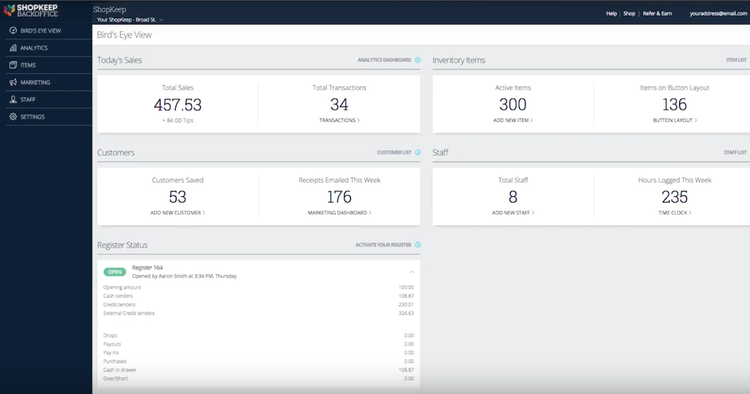 ShopKeep's inventory management feature is tailored for small businesses, letting you group inventory by variants for easier viewing and automatic restocking. For example, if you sell a sandwich, ShopKeep will deduct the appropriate stock from your stores of bread, cheese, and meat.
ShopKeep's register function is equally well thought out, giving you advanced capabilities in a simple, user-friendly interface. With ShopKeep, you get all the tools you need to run a store or restaurant without complexity.
Shopkeep's pricing depends on your volume and other factors, but the company offers a free plan for businesses with a single register, location, and staff member and sales of less than $5,000 per month.
All of ShopKeep's plans come with 24/7 support via email, text, live chat, and a knowledge hub. With all that, ShopKeep has a lot to offer small shops and restaurants.
Read The Ascent's full ShopKeep review
5. Shopify Point of Sale
Shopify POS is a major competitor in e-commerce and payment processing, and the company's POS system doesn't disappoint. If you're already using Shopify online, it's easy to add Shopify POS to your sales system.
Shopify provides powerful sales, inventory, customer, and employee management tools and financial analytics, all from a single interface. This includes advanced reporting on everything from best and worst sellers to inventory turnover ratio. As an example of the depth of Shopify's offerings, the inventory management tool features alone integrate with more than 100 apps.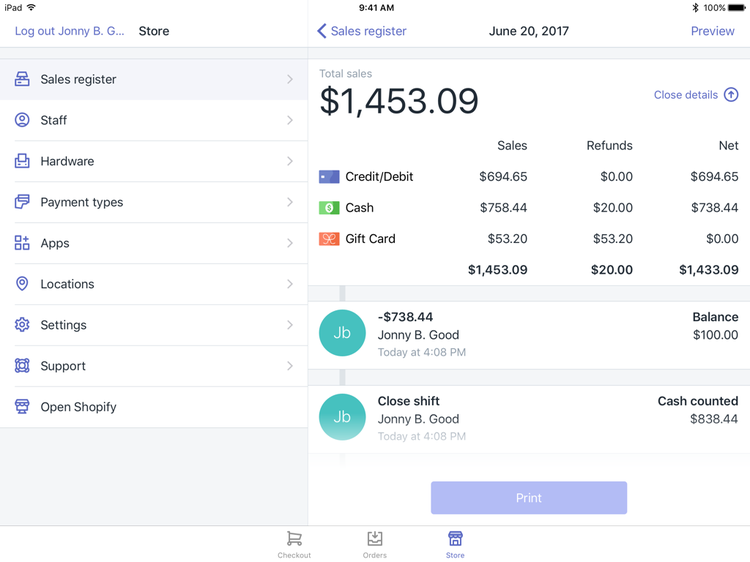 Shopify offers five pricing tiers starting from $9/month with a free card reader. Fees are 2.7% for card reader payments and 2.9% + $0.30 per transaction for online payments. All plans come with 24/7 support via email and chat, but phone support could be better.
Read The Ascent's full Shopify Point of Sale review
6. Revel POS
Revel POS is an iOS-based POS solution designed for restaurants with systems specifically geared toward coffee and pizza shops. A general retail solution is also available.
Revel includes features for front-of-house operations such as order management and back-of-house tasks such as inventory management and sales analysis. Its POS interface is simple and easy to use, with a main dashboard that incorporates customer management, time clock, reports, and inventory.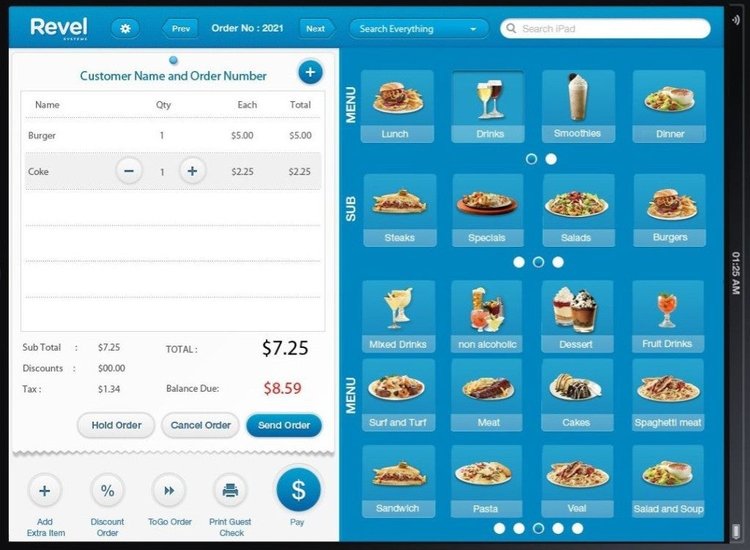 Revel's analytics are excellent. Its inventory management tools let you analyze inventory turnover rates, holding costs, gross profit calculations, forecasting, and more. Sales reports are equally robust, with breakdowns by customer, payment method, employee, and more.
Revel is easy to use, but customer support receives mixed marks. And it's incompatible with Android devices.
Revel's pricing, based on an annual subscription fee of $1,188/terminal with unlimited users, provides advanced reporting. Payment processing is quoted individually, and onboarding starts at $649. One advantage of Revel is that you can use your own iOS hardware.
Read The Ascent's full Revel POS review
7. PayPal Here
PayPal Here is a mobile app that combines payment processing with basic retail management tools. It is a good solution for businesses that need to take payments anywhere, from any smartphone or tablet.
PayPal Here is a simple, quick, and trusted payment option. It accepts payments via a PayPal account, Venmo, PayPal Credit, or credit and debit cards. PayPal can also provide online payment processing through a PayPal button on your website.
Getting started is as easy as signing up for a PayPal business account, downloading the app, and ordering a free card reader. The business account includes basic inventory tracking, customer management, and staff management tools. Its dashboards and reports also provide customized performance and sales analytics.
PayPal Here is a tested, out-of-the-box solution that can manage all of your payment processing needs from any device or location. Support includes a help center, live chat, in-app help, and phone support.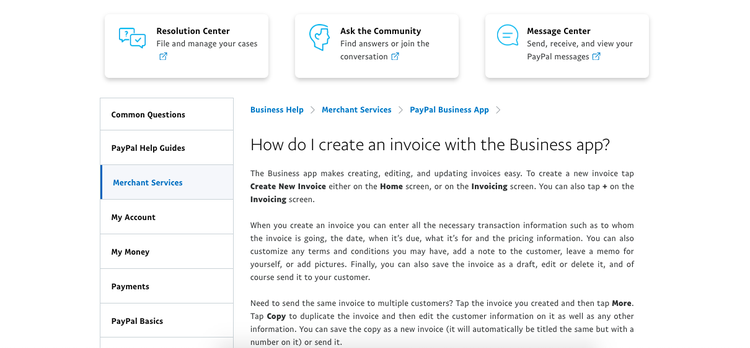 PayPal provides quick access to sales revenue and straightforward pricing at 2.7% for card payments, 2.9% + $0.30 per online transaction, and 3.5% + $0.15 for keyed transactions. If you qualify to take payments under $10, you'll pay a fee of 5% + $0.05 per transaction in U.S. dollars.
Read The Ascent's full PayPal Here review
8. Epos Now
Epos Now is another POS system designed for businesses in the retail, restaurant, and hospitality space. Epos caters to the unique needs of hospitality businesses with features such as table layouts, master products, split bills, online booking, and loyalty systems.
Epos Now's POS solution accepts payments via global processing partners. It includes helpful add-ons such as custom receipts that incorporate customer loyalty information. Its inventory management tools include barcode scanning and automatic restocking.
The system provides extensive reports to monitor sales and financial performance from a single dashboard. You can access your dashboard from any device via website or app. You can also customize your dashboard to track key performance indicators (KPIs) of your choice.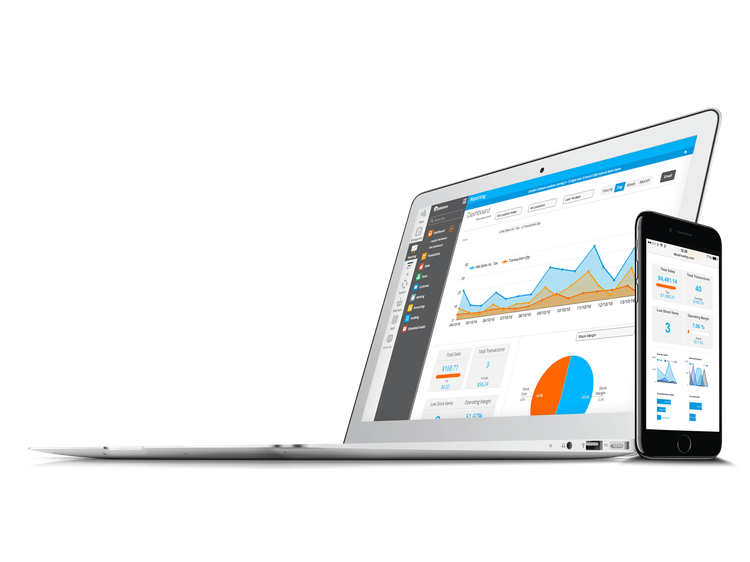 Epos Now's rich feature set extends to customer relations and employee management for a comprehensive solution. Pricing consists of monthly subscriptions at $39/month for the standard plan and $69/month for premium. Support varies between plans.
Epos is worth a look for restaurants, bars, gyms, hotels, and other hospitality businesses. A free 30-day trial means you can take Epos Now for a spin risk-free.
Read The Ascent's full Epos Now review
9. Clover POS
Clover POS is also tailored to meet the needs of restaurants. It has a higher sticker price than many of the other POS systems featured here, but it is highly customizable and well suited to the needs of restaurants with table or counter service.
Besides processing credit card payments, Clover POS includes helpful features that make running your restaurant easier. With Clover's Register app, for example, you can customize orders to add bacon or put the dressing on the side and automatically adjust charges to match.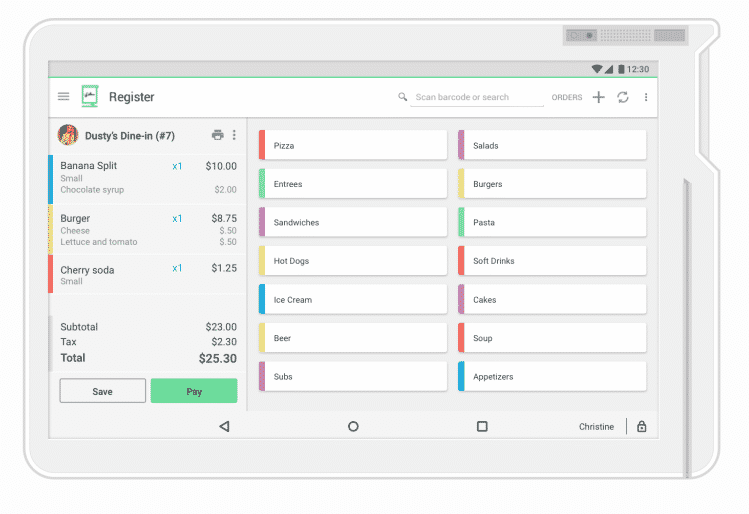 Clover also provides customer accounts complete with photos, allergy information, loyalty points, and other key stats so you can treat every customer like a VIP.
Clover's sales reporting and performance analytics are equally impressive. The system allows access to an array of apps from Clover and other providers for managing everything from payroll to bar tabs.
Clover POS is easy to use, but pricing is more complicated. The system requires Clover hardware, which starts with a smartphone card reader, Clover Go, at $69. You'll also pay for a register plan, which starts at $14/month, plus transaction fees of 2.7% + $0.10 for in-person credit card payments or 3.5% + $0.10 for keyed-in sales. Additional register fees apply.
Clover POS isn't the cheapest, but it is definitely among the more powerful POS solutions for restaurants. Customer support is not a strong point, however. Because of that, and the company's complex pricing, Clover warrants careful examination before signing on.
Read The Ascent's full Clover POS review
10. QuickBooks POS
Your go-to accounting software company, QuickBooks, offers a POS solution that might be a good fit for businesses that want a tight integration with their bookkeeping system.
QuickBooks POS is the only system featured here that's locally installed rather than cloud-based. That might be a non-starter for many, but QuickBooks POS works for a lot of businesses.
QuickBooks is designed for brick-and-mortar stores with straightforward POS needs, but it's not ideal for stores with online sales.
The QuickBooks system includes checkout and payment processing, inventory management, and customer management as well as robust financial reporting. The system is easy to set up and use.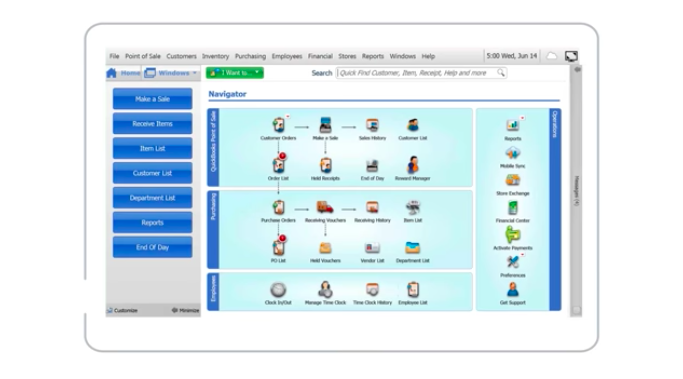 QuickBooks offers three tiers of pricing beginning at $960 for a one-time license purchase. Hardware such as card readers and tablets must be purchased separately. Payment processing fees are also covered by separate plans including a pay-as-you-go option and monthly subscription options.
QuickBooks offers a 30-day free trial, so if you're intrigued by integrating POS with your existing accounting software, it might be worth a look.
Read The Ascent's full QuickBooks POS review
Measure twice, then cut the check
Your POS system is the nerve center of your business. With so many choices available, it makes sense to do your research and due diligence before investing in a system. Talk to a sales rep, take a test drive, and consider the payment structures carefully before deciding, and your POS should serve you well as you manage and grow your business.
https://www.fool.com/the-ascent/small-business/pos/articles/square-alternatives/