Customer relationship management (CRM) software is essential for your marketing, sales, and customer service efforts. The Ascent covers three CRM types and their benefits for your small business.
When you started your small business, customer relationship management (CRM) was simple. You looked your customers in the eye, made handshake deals, and talked across the office to your salesperson or marketing rep to relay a key piece of information.
If your business grows as planned, however, those days will quickly be in the rearview mirror, and you'll need CRM software to manage your customers, sales, and service. We'll go over the three primary CRM types — operational, analytical, and collaborative — and the different benefits each creates for your small business.
Overview: What is a CRM and how does it help small businesses?
CRM technology creates a centralized repository for customer information: contact information, communications history, deals, contracts, service-level agreements (SLAs), and more.
Multiple personnel and departments use CRM databases to inform marketing campaigns, increase sales, and improve customer service.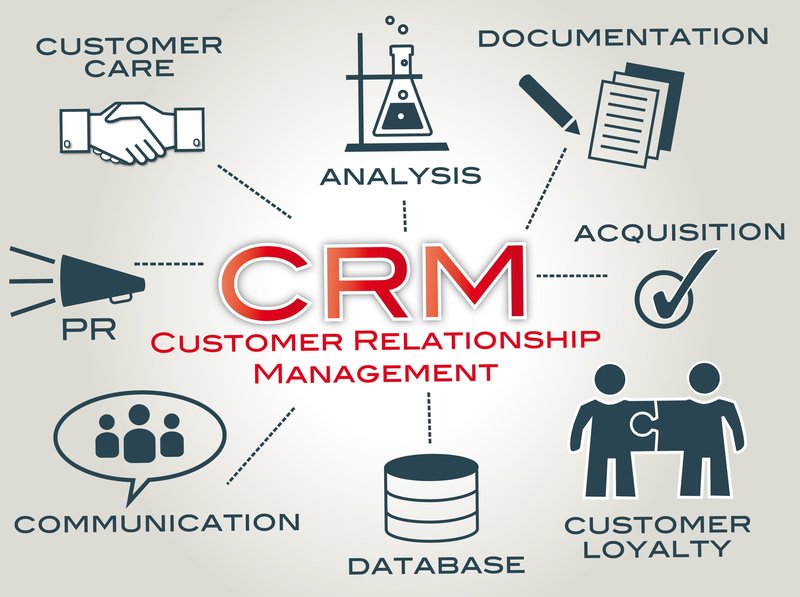 Beyond storing individual customer records, the best CRM software analyzes multiple performance metrics to track marketing, sales, and customer service efficiency, revenue generation, and customer satisfaction.
3 types of CRMs and how to use them
Businesses have multiple types of CRM applications to choose from, but understanding your three basic options is a good place to start:
Operational: Increases overall efficiency and automates many processes
Analytical: Analyzes customer and performance data
Collaborative: Improves the customer experience and departmental collaboration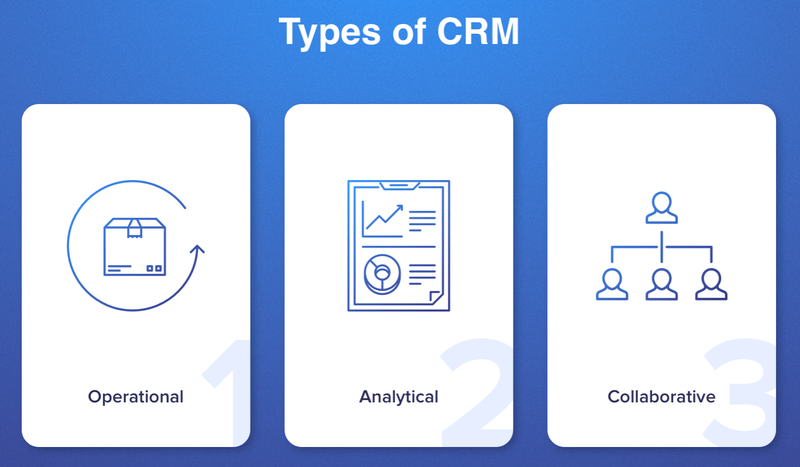 More specialized CRMs include:
Strategic: Collects, organizes, and analyzes customer and market trend information to formulate better value propositions for consumers
Information technology (IT) help desk: Resolves customer service requests, incidents, and related issues
Case management: Supports more complex sales processes and IT incidents with longer life cycles
E-commerce: Facilitates sales orders and inventory management
Asset management: Oversees large portfolios such as real estate, trucking fleets, or heavy equipment
We'll take a closer look at operational, analytical, and collaborative CRM systems. Many generalized CRMs have elements of all three, and the differences are in the methods and features used.
Type 1: Operational CRM
Operational CRM provides a holistic framework for customer-related business activities including marketing, sales, and customer service. Create customer accounts individually or from imported contact spreadsheets, use this data to create campaigns, and update accounts after each customer interaction.
Features
Operational CRMs excel in automating multiple tasks:
Marketing: Create segmented marketing distribution lists for ongoing welcome, onboarding, targeted sales, repeat purchase, and reengagement campaigns.
Sales: Produce and distribute sales reports, generate sales leads, use lead management tools to score, prioritize, and assign leads, and manage sales content knowledge bases.
Customer service: Provide customer self-service options, case routing and escalation, and satisfaction surveys.
Automation frees your employees from time-consuming, repetitive tasks and allows them to focus on activities requiring human oversight and intervention.
Type 2: Analytical CRM
While operational CRM facilitates front-line business activities, analytical CRM works behind the scenes to crunch collected data. Analytical CRM tracks multiple performance metrics to provide actionable insights to inform business decisions across your company.
Its primary components are a data warehouse, data mining module, and online analytical processing (OLAP) tools.
Features
Analytical CRM produces the following report types:
Customer: Examine customer characteristics and behavior for patterns to exploit.
Marketing: Optimize campaigns based on past performance, customer demographics, and buyer personas.
Channel: Track customer communications across email, phone, chat, text, and social media.
Sales: Determine sales pipeline efficiency, prospecting effectiveness, and lead nurturing.
Customer service: Calculate customer satisfaction rates and costs of different customer support types such as chat, telephone, email, and self-service.
Pattern recognition is analytical CRM's fundamental characteristic: identifying key trends to streamline operations and develop data-based strategies to achieve business objectives.
Type 3: Collaborative CRM
Collaborative CRM focuses on improving the customer experience and promoting cross-department collaboration.
Collaborative CRM features include a centralized customer database multiple departments can access, a multi-channel interface to communicate with customers, and document management that ensures only approved support information is disseminated.
Features
Collaborative CRM tools include:
Interaction management: Aggregate each customer's communications in their account so whoever accesses it can see a complete interactions history, related notes, and other information.
Channel management: Talk to your customers using their preferred communication methods such as email, chat, text, phone, or social media.
Document management: Create customer self-service options with knowledge bases, troubleshooting guides, and FAQs.
Account collision detection features keep employees from talking at cross-purposes to customers, and customer self-service options, which are becoming more popular, lower the cost of customer support interactions.
How to decide which type of CRM is right for you
Determining which CRM approach to focus on can be tough in the abstract. Let's take a look at some real-world CRM examples using different CRM strategies.
Use cases for operational CRMs
Financial services company Wells Fargo, with $1.7 trillion in assets and 70 million customers, uses the Salesforce operational CRM to align services such as banking, credit cards, investing, and mortgages.
Automated workflows reduce nonproductive work hours and create more time for special projects and customer service interactions requiring a human touch.
5P Consulting also employed Salesforce's operational CRM to triple lead generation. Using web-to-lead functionality, inbound traffic to the company's website creates leads automatically. Gmail integration allowed inbound email to automatically populate Salesforce, which updates accounts, contacts, and tasks.
Use cases for analytical CRMs
Kentucky's Bluegrass Cellular used Calabrio Analytics to redesign the routing of customers' support calls.
Voice recognition technology identified phrases frequently used in service calls, and data analysis led to process automation that now directs basic-level service requests to junior staff, freeing up senior techs for more complex issues.
The result? Operational expenses dropped $100,000/year while first-call resolutions rose 20%.
German carmaker Audi chose SAP's analytical CRM to improve customer support, which includes a call center with 220 employees. Quantitative and qualitative analyses helped Audi optimize support staff allocation and process controls.
The company also has more performance metric data: initial support request response times, top-performing customer support teams, and recurring customer support request topics.
Use cases for collaborative CRMs
Founded 75 years ago, Jo-Ann Stores has long used a legacy, single-channel CRM for customer service. To upgrade its support options, in March 2019, Jo-Ann Stores partnered with Gladly to implement omni-channel customer communications such as email, live chat, phone, and text messaging.
The results included a 70% reduction in response times and a 93% reduction in email backlogs.
Women's swimwear retailer Andie also used Gladly when it moved customer support operations in-house. Its sales are direct-to-consumer, which makes superior online support even more important.
After its collaborative CRM went live, email response times dropped by over a third — from 18.5 hours to 11.25 — and customer satisfaction, which it had not previously measured, earned 4.8 out of five stars.
CRM for the win
You can't ignore the benefits of CRM: streamlined business operations, actionable performance metrics, and improved customer service. Formulate a CRM strategy now to leverage your accumulated business data to impact your bottom line.
https://www.fool.com/the-ascent/small-business/crm/articles/crm-types/