Maybe you've been running your food truck as a cash only operation but want to start processing credit card payments. Or perhaps you have a smaller table service restaurant that's using a point of sale (POS) system better suited for a retail store, and you want software tailored to the food service industry.
If this sounds like you, the Clover point of sale system could be a good choice. We'll cover the pros and cons below along with its operating costs.
Who is Clover POS for?
The Clover website says its software is applicable to retail and service businesses in addition to restaurants. In reality, however, the vast majority of its users are in the food service industry and fall into one of two categories: either table service or counter service restaurants.
At the same time, Clover POS is better suited for existing companies with an established customer base as opposed to a small operation just starting out. Why? Because the potentially expensive hardware and software might be prohibitive for a startup.
Clover POS' features
Sure, Clover software does the most essential POS task: process credit card payments. If you've only been doing cash sales, that can increase both sales and cash flow. First, customers love to pay with credit or debit cards instead of fumbling around for cash or looking for the nearest ATM.
And, really, who still uses personal checks unless it's someone ahead of you in the checkout line at a grocery store when you're in a hurry? Plus, if you're filling larger food orders for local businesses or events, you can be paid on the spot with a card to bypass the lengthier purchase order process.
Beyond that, however, Clover software does much more than just process payments, things like handle orders and customer and sales management. Plus, it's easily customizable, thanks to a wide range of specialized apps from Clover and other third-party vendors.
Order management
Restaurants have unique transactions that differ from retail stores. For example, with a retail sale, you may manually input the price of an item or scan a barcode, but the process to ring up the total cost is relatively straightforward.
In a restaurant, however, the specific details of each order — adding onions on a burger for lunch or extra chocolate syrup on a sundae for dessert — can be unwieldy on a general-purpose POS.
When you use Clover POS' Register app, that will no longer be an issue. Not only can you customize each order to customer specifications, but the added cost for extras will also be automatically added to the receipt, and you'll have easy access to other types of food and beverages during the ordering process.
Customer management
Clover POS customer management features will also help you grow your business. After all, while customer acquisition is essential for success, so is keeping the customers you already have.
After all, research shows that increasing customer retention by just 5% can increase profits by an average of 60%. Plus, the average success rate of selling to an existing customer is 65%, while the success rate with a new customer is 12.5%.
That means you need to treat each regular customer as an individual, not just another semi-familiar face that happens to be making another purchase.
This will be no problem with the Clover POS system because you'll be able to create detailed customer records that can include recent orders, billing information, delivery address, loyalty points, notes such as food allergies, and feedback they've provided.
Plus, you can include a photo and nickname, so you can ultimately greet your repeat customers by name when they come through the door and ask if they want their regular order.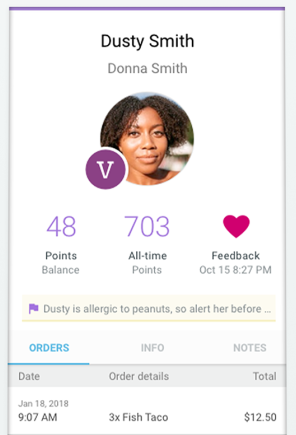 Sales reports
Of course, all those accumulated transactions on your Clover POS will lead to some of the most critical information for your business: sales reports.
You'll be able to break out sales by time period — shift, day, week, month, quarter, year — as well as by employee, food items, location, discounts, gift cards, and payment method. All this can help you identify your optimal pricing strategy and implement other sales techniques.
Instead of just having a summary bank deposit at the end of the day from current sales, you'll have all the info you'll need to make key business decisions. Want to know the results of your sales and marketing for a new menu item? No problem. Need to identify which employees know how to close a sale? That will be a snap too.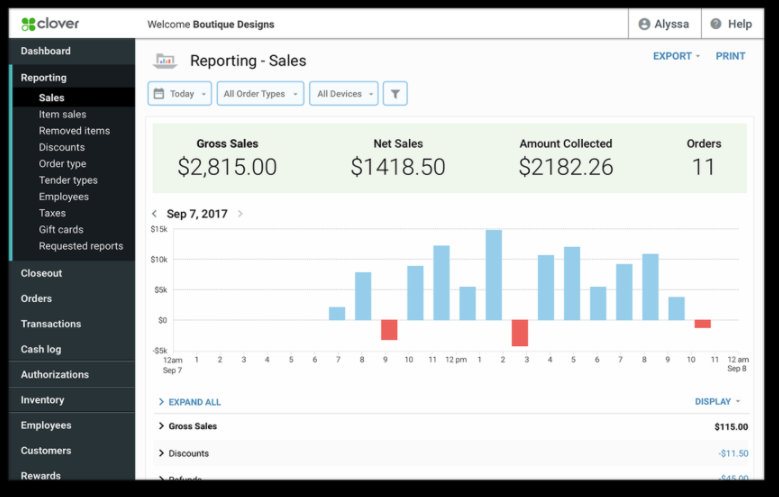 Software apps
A real strength of Clover POS is the apps you can access to customize your sales process and other business operations. A key thing to remember is that Clover's Android-based system is basically like a smartphone.
That is, after you buy your hardware package, real functionality comes from the apps you install, not the basic operating system itself. Just like other apps you may use, some are free or have free versions, but you'll have to buy others or pay a monthly subscription fee.
Clover POS apps fall into two basic categories: those provided by Clover and others from third-party vendors. The Clover apps form the core of the basic processes you'll use on a regular basis depending on your exact setup: register sales, phone sales, refunds, tips, and more.
Third-party apps include payroll and inventory management, time clocks, and even COVID-19 financing as well as ones that integrate popular email marketing and accounting software.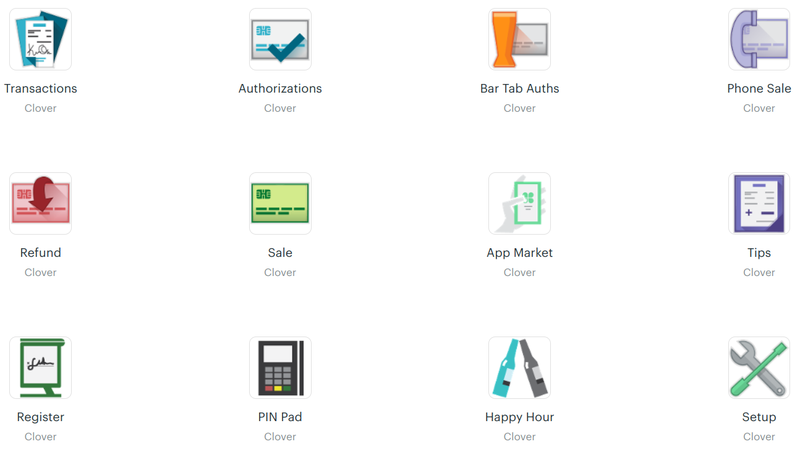 Clover POS' ease of use
Clover POS receives high marks for its ease of use, which is crucial in a restaurant environment where you'll have different employees taking orders at multiple points including phone, counter, and table sales. Its app-based functionality is simple, intuitive, and will be familiar to most users.
With Clover POS, you'll also minimize the amount of time, and ultimately money, to train new employees. That's a critical factor because of the foodservice industry's high turnover rate, which can be up to 150% per year.
In addition, Clover's proprietary hardware has essentially a plug-and-play setup, always a plus for businesses that don't have a dedicated IT department.
Clover POS' pricing
While there is a lot to recommend about Clover POS as noted above, it costs more than other systems. Your costs will break out into three categories: software, transaction fees, and hardware.
To process sales for the Clover Go, Flex, or Mini hardware packages below, you'll need one of two plans. The Register Lite plan is $14/month and it is best if you have credit card sales under $50K per year. The full version of Register is $29/month and is more suited for credit card sales over $50K per year.
Transaction fees for Register Lite are $0.10 per transaction in addition to 2.7% of in-person sales and 3.5% of keyed-in sales. Register fees are also $0.10 per transaction plus 2.3% of in-person sales and 3.5% of keyed-in sales.
With Clover Station, the fee to process sales will be $69.95/month, and Clover Station Pro will cost $39.95/month, both with the same individual transaction fees as above.
In addition, you'll have to buy one of the following Clover hardware packages to run its software:
Clover Go ($69) — A smartphone card reader compatible with both Android and iOS devices that accepts contactless, chip, and swipe payments anywhere you have wifi or cell service.
Clover Flex ($499) — A handheld device with a five-inch touch screen that processes payments, prints receipts, and provides access to the Clover web interface.
Clover Mini ($749) — This all-in-one POS system includes full access to the Clover web interface along with a seven-inch, high-definition touch-screen register, card reader, and receipt printer.
Clover Station ($1,399) — An expanded full-service POS that includes a 14-inch touch-screen display on a swivel, card reader, receipt printer with customer display, and cash drawer.
Clover Station Pro ($1,649) — Clover's top-tier hardware package includes a high-definition 14-inch merchant-facing touch screen, seven-inch customer-facing touch screen, fingerprint login, card reader, receipt printer with customer display, and cash drawer.
All plans also allow you to log into Clover's virtual terminal via a smartphone or other device to manually key in transactions.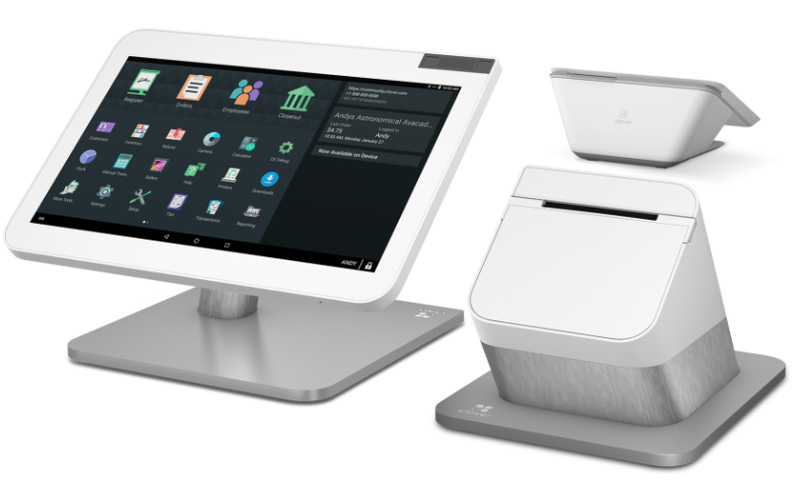 If you buy directly from Clover, you'll have to use Fiserv, Clover's parent company, for your merchant account and card processing services. To use a different processing provider, you'll have to buy a Clover system directly from them.
Clover POS' support
If there is a weak link with Clover, it's customer support. On one hand, there are clear instructions on the Clover website for hardware setup as well as using Clover apps. On the other hand, when it comes to customer support, Clover has a less than stellar record.
Multiple online reviews regularly cite a lack of responsiveness when calling technical support as well as offline transactions being rejected when processed later.
Users have also complained about a lack of transparency when it comes to the actual costs and fees versus their understanding of them ahead of time. While Clover does have an initial 60-day return policy, after that you'll be facing a hefty early termination fee of $500 or more.
Benefits of Clover POS
Despite the initial setup costs and customer service concerns, there are several key Clover POS benefits. First, it's designed primarily for restaurants, so it responds to the particulars of that industry from the get-go. In addition, hardware setup is quick and easy, and the software is intuitive to use.
There are also multiple Clover and third-party apps — just make sure you know their initial and ongoing costs — to help you customize the system to meet your specific needs.
While many POS providers offer integrations with existing software, Clover also has a robust developer's community it actively encourages to create new apps specifically for its platform. That means you can always be expecting new capabilities and functionality.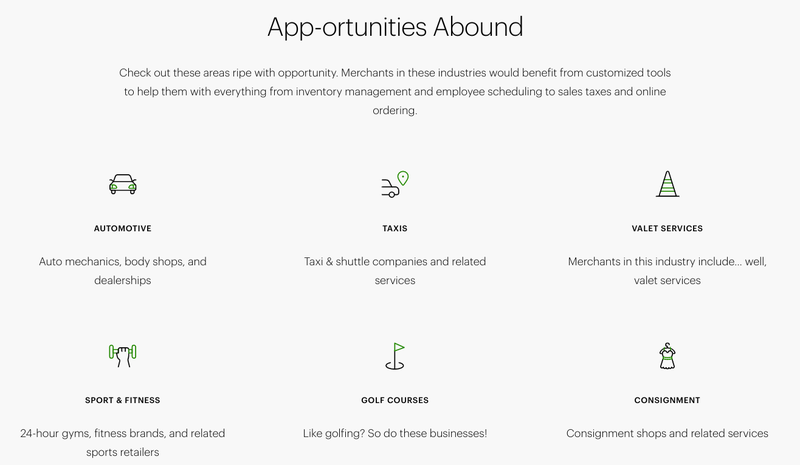 Clover POS could be your best choice
If you're looking for a quick setup to process credit card payments as well as additional capabilities for order and customer management and sales metrics, Clover POS could be a viable option.
At the same time, make sure you thoroughly work out your hardware costs, monthly fees, and contract terms, so you're not surprised at a later date.